FEATURE COMPARISON
Session Strings Pro 2
Session Strings Pro (SSPro) aims to provide just that, at a relatively affordable cost. The Story So Far. To get an idea of what SSPro is all about, let's quickly take a look at its predecessor, Session Strings (released early in 2010). Follow this comprehensive walkthrough of all key features in SESSION STRINGS PRO 2 and bring new textures to your tracks. Incorporate new string textures into pop, R&B, dance tracks, or modern scores. SESSION STRINGS PRO 2 offers a mid-sized contemporary ensemble – sampled in intricate detail with an extensive range of articulations for expressive playing. A modern interface and several smart play assistance features help spark creativity. From the off, Session Strings Pro utilises interesting solutions to tailor your virtual string ensemble to the requirements of your project, starting with Ensemble size. The library contains four recorded 'Sections', all of which feature four violins, three violas, two celli and two basses, but these have been mic'd in different positions to.
SESSION STRINGS
SESSION STRINGS PRO
Sample format
44.1 kHz, 24 Bit
44.1 kHz, 24 Bit
Data size
2.4 GB (1.6 GB compressed)
48 GB (32 GB compressed)
Presets
48
60
Bow Noise control
Stereo Image control
Round Robin
2 x
4 x
Release Samples
Animator
Presets only
Fully programmable
Velocity switch
Fixed
Programmable
Sustain pedal function
Fixed
Programmable
Expression pedal function
Programmable
EQ
3 x gain
3 x gain, 3 x freq
Compressor
Reverb
MTown presets
Production presets
Kontakt Session Strings
INSTRUMENT GROUPS
SESSION STRINGS
SESSION STRINGS PRO
Full ensembles
(mapped across the keyboard)
1 (max 4 x violin, 3 x viola,
 2 x cello, 2 x bass)
4 (max 16 x violin, 12 x viola,
 8 x cello, 8 x bass)
Violin sections
4 (max 16 x violin)
Viola sections
4 (max 12 x viola)
Cello sections
4 (max 8 x cello)
Bass sections
4 (max 8 x bass)
ARTICULATIONS
SESSION STRINGS
SESSION STRINGS PRO
Accented Sustain
1 Dynamic
4 Dynamics
Normal Sustain
2 Dynamics
3 Dynamics
Legato
2 Dynamics
3 Dynamics
Portamento
3 Dynamics
Glissando
2 Dynamics
3 Dynamics
Glissando fast up
2 Dynamics
3 Dynamics
Glissando fast down
2 Dynamics
3 Dynamics
Glissando slow up
Glissando slow down
Fortepiano
Diminuendo
Fortepiano Crescendo fast
Fortepiano Crescendo slow
Crescendo fast
Crescendo slow
Falls fast (short Glissando down)
Falls slow (short Glissando down)
Scoop fast (short Glissando up)
Scoop slow (short Glissando up)
Spiccato
2 Dynamics
4 Dynamics
Spiccato bow direction up
4 Dynamics
Spiccato bow direction down
4 Dynamics
Staccato
2 Dynamics
3 Dynamics
Staccato bow direction up
3 Dynamics
Staccato bow direction down
3 Dynamics
Pizzicato
2 Dynamics
3 Dynamics
Tremolo
1 Dynamic
3 Dynamics
Trill semi tone
2 Dynamics
Trill whole tone
2 Dynamics
MAXIMUM CONTEMPORARY STRINGS
48 GB of instrument and ensemble samples
29 articulations for detailed expression
Instant custom rhythm with the editable Animator
CUE THE STRINGS
Session Strings Pro 2 Review
SESSION STRINGS PRO is the new gold standard for contemporary studio strings. Take control of an 11-piece ensemble, recorded with the utmost precision in four different settings for maximum flexibility and realism. With its immaculate, intimate quality, unique musical workflow and a vivid, modern edge, SESSION STRINGS PRO is the premium choice for pop, RnB and more.
Taking the intuitive approach of SESSION STRINGS to new heights of quality and detail, SESSION STRINGS PRO is 20 times bigger with refined workflows, separate instrument groups, a choice of instrument placements, 29 articulations and precise control.
SESSION STRINGS PRO is far more than just a string library. Creating natural, expressive string tracks in the highest possible quality has never been more immediate, or more rewarding.
Produced in collaboration with e-instruments.
THE SOUND OF STUDIO STRINGS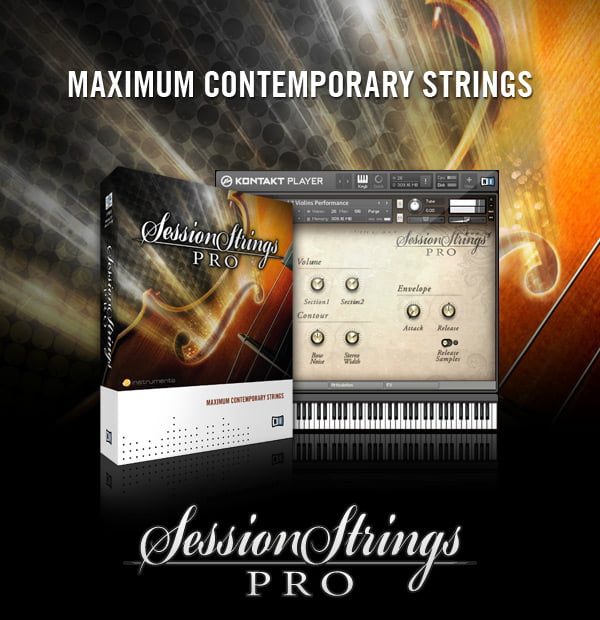 The sound of SESSION STRINGS PRO is close, detailed and intimate — an essential alternative to orchestral strings. Meticulously sampled and designed to sit well in the mix, each of the four ensembles consists of five ins- trument groups: full ensemble, four violins, three violas, two cellos and two basses. Play full ensembles, mapped across the keyboard, or individual instrument groups.
Multiple velocity layers and 29 articulations provide a wide expressive range. With smooth looping, beautifully fluid transitions and up to four round robin samples per note, SESSION STRINGS PRO delivers a strikingly natural sound. What's more, an additional set of presets provides the glamorous sound of vintage soul and disco.
PLAY INSTRUMENTS, NOT LIBRARIES
Session Strings Pro Library
The defining quality of this instrument is musical flow. Designed by musicians for musicians, SESSION STRINGS PRO provides tailored workflows for performance and production, supporting the creative process, rather than getting in the way.
You can play chords and monophonic lines at the same time, and all 29 articulations are available in a single interface. And for instant rhythm, the Animator transforms the chords you play into lively rhythmical phrases.
Session Strings Pro Vs Action Strings
THE FLEXIBLE ENSEMBLE
SESSION STRINGS PRO provides detailed control, right down to the amount of bow noise. Choose between classic or pop instrument placements. Experiment with close and wide microphone positions, or combine two ensembles for a full, widescreen sound. Find out more on the Ensemble Details page.
All ensembles are provided as two different preset types: Performance, for playing with two hands on the keyboard, and Production, for assigning key switches. Find out more...
The Animator in SESSION STRINGS PRO is also completely customizable. Create your own patterns with a choice of articulations, note lengths, and time signatures. Find out more...
ABOUT E-INSTRUMENTS
Based in Hamburg, Germany, e-instruments specialize in intensely detailed sampled instruments. Thomas Koritke and his team have succeeded in capturing the clarity, warmth, and character of these strings, using the very best equipment for outstanding sound quality. Every note is expertly played by virtuosos from Europe's top orchestras, and the instruments used were hand-picked Italian antiques, including an exquisite cello from 1685.
Read more about e-instruments.
Session Strings Pro 2 Demo
AT A GLANCE
| | |
| --- | --- |
| Product type | KOMPLETE Instrument |
| For use with | Free KONTAKT PLAYER or KONTAKT |
| Sound category | Studio strings |
| Size | 48 GB of samples (32 GB compressed, using the KONTAKT Lossless Sample Compression format. Requires 32 GB of free hard disk space) |
| System requirements | Free KONTAKT PLAYER or KONTAKT. Please also see the KONTAKT PLAYER system requirements and the KONTAKT PLAYER FAQ. |
| User manual | Download Manual |