Loh Mai Kai Chicken Glutinous Rice
Nasi Pulut Ayam (Lor Mai Kai) Oleh MyResipi. Published At 16 Jan 2007, 03:03 AM Kategori: Resipi Ringkas, Snek Masa Penyediaan: 0 Jam 0 Minit Hidangan: 1 Orang. Try my chinese recipe popular in Singapore, Malaysia, Indonesia and China.It is my breakfast meal when I was working in Singapore. My true friend Corinne Poo.
Loh Mai Kai or Chicken Glutinous Rice is pretty much a Cantonese delicacy forming a part of the variety of Dim Sum available in Malaysia. Dim Sum literally translated means "touch the heart". If you like Dim Sum and you like Loh Mai Kai or Chicken Glutinous Rice, a good Loh Mai Kai truly touches the heart!
Dim Sum comprises of small plates of savoury and sweet snacks served to please the palate of the Emperor in the olden days. Made with passion meant to touch the royal heart, it can come in so many different varieties and forms. It involved great efforts just to whet the appetite of the Emperor and Loh Mai Kai or Chicken Glutinous Rice is one of them! So why not try making this Loh Mai Kai or Chicken Glutinous Rice and touch the heart of your loved ones! Satisfaction guaranteed!
What you need to make Loh Mai Kai is bite-sized chicken pieces, Chinese sausages and Chinese dried mushroom and a strip of Char Siew pork and of course glutinous rice! Start this off by first soaking the glutinous rice in water but first giving it a few rounds of wash to get rid of the starch. I keep the rice water for my little patch of vegetable garden at the back of our home. I have been told to go green and to avoid using chemical fertilizers. I would keep water from washing rice, meat and vegetables for my plants. They made good fertilizer! Whatever vegetable peels and egg shells I have, I tried to just bury them around my plants in the garden. If it is citrus fruits peels like lemon, pineapple, mango or oranges, I have learned to make garbage enzymes! All this come in useful for cleaning the house, for spraying on my vegetable and the rest as compost! Such is my little contribution to save mother earth!
Marinate the chicken with all of the ingredients and leave it in the fridge for the sauce to soak it in. Steam the Chinese mushrooms with all of the stated ingredients for it to soften and to have flavor as they can be quite bland by themselves. I sometimes wonder what's the goodness in Chinese mushrooms when nowadays we get such good varieties of fresh mushrooms! Say what you like, in Chinese cooking some dishes just need the flavor of this dried mushroom in it.
When the rice is soaked enough, just ensure you have water just covering the rice and put it to steam over rapidly boiling water for about 15 minutes or when the rice is soft. Stir in the rice seasoning while it is still steaming hot and consistently spread the seasoning evenly all over the rice. It should have a nice glossy brown colour!
If you do not have mini steel bowls, do not despair. I am not one who likes to buy every little thing that I need for my cooking as I may only use it once and never to return to it again. I improvised and saw my late mother in law leaving behind some very nice porcelain bowls that would do the job just the same.
Place the mushroom, sausage, char siew and chicken on the base and top it up with the seasoned rice. Do compress it as much as you can with a wet spoon so that it will mould into a nice lump of rice with the toppings sitting firmly on top when you turn it out. Sprinkle some water onto the rice if it you would like it softer and put it back into the steamer to steam for another 25 minutes on high heat so that the marinated chicken and sausage would be cooked. Hey presto! You have got your delicious home-made Loh Mai Kai and you would love the sight of it when you turn it out from the bowl onto the plate. Do this by using the back of the handle of the spoon (like what they do at the coffee shop) to go round the bowl and ease it out. Easy peezy! This would certainly touch the heart of your little and old emperors at home!
Resep Lo Mai Kai Recipe
Loh Mai Kai or Chicken Glutinous Rice

1
Wash the glutinous rice until water is clear. Leave to soak for at least 2 hours.


2
Cut the chicken into bite-sized pieces. Marinade well with the chicken marinade. Set aside.


3
When glutinous rice is steamed and mixed with seasonings, assemble the Loh Mai Kai by placing at the base of the bowl, a piece of chicken, mushroom, sausage and Char siew and topped with the rice. Use a spoon to press and level the rice to make it compact.


4
Put the bowls of Loh Mai Kai to steam over high heat for 25 minutes to ensure the chicken is cooked.

Loh Mai Kai Chicken Glutinous Rice
Loh Mai Kai Chicken Glutinous Rice
Print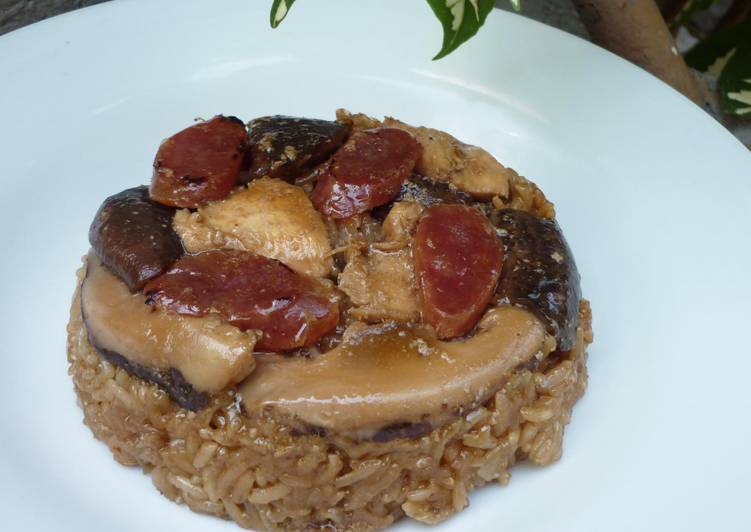 1 hr
1 hr
2 hr
1 hr
1 hr
2 hr
500g of white glutinous rice, soaked for at least 2 hours
A strip of barbecue or Char siew pork cut into slices
1 piece of Chinese sausage sliced into pieces


Half chicken, cut into bite sized pieces
1 Tablespoon Oyster sauce
1 Tablespoon Light soya sauce
1 Teaspoon Dark soya sauce
4 cm piece Fresh ginger grated
1 Tablespoon sesame oil
1 Teaspoon Sugar
½ Teaspoon white pepper


5 pieces Dried Chinese mushrooms, softened by soaking in hot water and cut into halves
A pinch of salt
A pinch of sugar
½ teaspoon of sesame oil
1 teaspoon of cooking oil


2 Tablespoon Oyster sauce
2 Tablespoon Light soya sauce
1 Tablespoon Dark soya sauce
2 Tablespoon Sesame oil
2 Tablespoon Chinese cooking wine or Shao Hsing Hua Tiao Chiew
1 Teaspoon Sugar
1 Teaspoon Salt
1 Teaspoon White pepper
2 Tablespoon Fried shallot oil (optional)
Marinade the chicken pieces with the marinade ingredients for at least an hour for the sauce and ginger to soak in.
Steam the Chinese mushrooms with the seasoning and set aside.
Wash the glutinous until water is clear before soaking in water for at least 2 hours.
Drain the soaked glutinous rice but leave just enough water to cover the rice and steam over rapidly boiling water until rice is soft and cooked.
Remove rice from the steamer and stir in the rice seasoning while it is still hot, spreading it evenly over the rice. Set aside.
Place one piece of marinated chicken, one piece of Chinese mushroom, two slices of Chinese sausage, one piece of Char Siew Pork on the base of a small bowl. Top up with the seasoned glutinous rice. Level up the rice and press it down to compact each bowl.
Steam over high heat for 25 minutes.
Remove from steamer and with the end of the handle of the spoon, ease it out of the bowl by scrapping all around the bowl and serve immediately.
Resep Lo Mai Kai Mai
Seasoning for the chicken marinade and for the glutinous rice can vary according to individual taste.
Hokkien Chiak http://www.hokkienchiak.com/
Comments
Be the first to comment.
Leave a Comment
Lo Mai Gai is a popular dish in Hong Kong style dim sum restaurants. The steamed glutinous rice is soft but chewy and has a touch of ginger. The marinated chicken and mushroom as well as the slightly sweet lap cheong complement the taste of the Lo Mai Gai.
Making your own Lo Mai Gai at home is quite easy. The cooked Lo Mai Gai can be frozen for later consumption. Whenever you want to enjoy, just steam again for 15-20 minutes and it is ready to be served!
CHINESE VERSION: 软Q糯米鸡
Lo Mai Gai (Steamed Glutinous Rice Chicken) MyKitchen101en
Serve: 8
Preparing the ingredients:
1 Chicken meat: Add in all seasoning and mix well.
2 Mushroom: Add in all seasoning and mix well.
3 Glutinous rice: Heat the wok, add in cooking oil. Add in garlic and ginger, cook over medium low heat until fragrant. Add in soaked glutinous rice and mix well. Mix seasoning with water, then add to glutinous rice and cook until fragrant.
4 Divide all ingredients into 8 equal portions.
Making Lo Mai Gai:
Resep Lo Mai Kai
1 Brush the bowl with some oil.
Resep Lo Mai Kai Tai
2 Arrange the chicken, lap cheong and mushroom at the bottom of the bowl.
3 Add in glutinous rice, press down with wet hand until the rice is firm.
4 Add in 2 tablespoons of plain water (or mushroom soaking water).
5 Arrange the bowls in steaming racks.
6 Bring the water of steamer to the boil, turn to medium heat, steam for 50 minutes.
7 After 50 minutes, the Lo Mai Gais are ready to be served!