How Do I Convert Wma To Itunes
I often use iTunes to listen to music or transfer audios to my portable devices like iPhone, iPod, etc. However, recently I am upset by the problem that WMA audio cannot be recognized by iTunes. I have no idea what should I do. Is there a WMA to iTunes converter that can help me do this? Please give me some suggestion. Thanks.

Reply

WMA (Windows Media Audio) is a common audio format that is used widely in this era. However, it is a pity that iTunes doesn't support this audio format. Since iTunes only recognizes the formats of MP3, MP4, M4A, ACC, etc, WMA songs bought from online stores like Amazon or Windows Media Center cannot be accessed. In that case, here I will introduce you effortless solutions to overcome the incompatible issues of iTunes.

Best Program for Windows Users

Streaming Audio Recorder is the most recommendable software for those Windows users. It is a professional software that can help you convert WMA files to accustomed formats for iTunes with high quality and fast speed. More than that, possessing various functions, this software is able to satisfy your different purposes like converting audio, recording audio, downloading free MP3, etc. All at once, this program is welcomed by many people for the following reasons:

1. Easy-to-use and multiple functions.
2. Clear and concise interface.
3. Stable and safe operating environment.
4. No ads, no virus disturbs you.
5. Supporting many languages for users from non-English speaking countries.

Here as a WMA to iTunes converter, it can work things out in two ways.

Option one: Audio Converter

The first solution is to convert WMA audio to other formats including MP3, ACC, OGG, and WAV. The operation will be divided into two parts: first is to convert WMA audio to other formats; second is to import the converted audio to iTunes. Here is the step-by-step guide:

Install and run the software on your computer.
Select "Audio Converter" under "Tools" menu and you will see the built-in converter.
Click "Add" icon to load the WMA audio to this tool.
After that, configure some related settings like output format and folder. I suggest you to set the format as "MP3" since it is the most standard format.
Hit on "Start" and the conversion will be finished in a second. Then you could have converted the WMA file to MP3 file successfully.
Navigate to the tools menu and choose "Add to iTunes". It will pop up a window for you to transferring music to iTunes.
Click "Add" and choose the music files you want to import to iTunes. Then hit on "Start", those music tracks will be transferred to your iTunes one by one.
When it's done, you can check the music file in iTunes library.

Option two: Audio Recorder

Aside from converting WMA to iTunes with "Audio Converter", you can record the sound of WMA into a new audio file with iTunes compatible format. Before recording, configure the settings at your will. Adjust audio format to MP3 or ACC, then set output folder and other options. To start recording, you just need to click "On" and play the WMA audio, then hit on "Off" to finish the progress. After that, you can go on to add the recorded audio to iTunes (the instruction is just the same as that in option one).

WMA to iTunes converter for Mac

There's a parallel version for Mac users – Apowersoft Audio Recorder for Mac. It is a specially designed program that can let Mac users to record any sound from both system and microphone. In addition, this software supports many iTunes friendly format. Please follow the instructions below and you'll see how simple it is.

Step 1: Download and launch this software on your Mac.
Step 2: Configure the settings according to your need. You can also adjust the input volume.
Step 3: Play the WMA audio and then start recording by clicking the small round icon. Also, you may control over the recording within pause or stop icons.
Step 4: The last thing you should do is to open iTunes and add the recorded audio files to iTunes library.

As the best program for converting WMA to iTunes on Mac, it has many attractive merits:

Firstly, you can record the audio as long as you want in 1:1 quality within this software.
Secondly, the auto-identification function is able to recognize the music information like title, artist, genre, etc correctly.
Thirdly, during the recording process, this software will automatically skip the silent part caused by delay of buffers or interruption in connection.

Two pieces of remarkable software talked in this thread come in handy for people to know how to convert WMA to iTunes. Windows users are fit for Streaming Audio Recorder and Mac users are suited to Apowersoft Audio Recorder for Mac. Hope you can find a desire program as you need.

Reply

:

What is the BEST Format to convert FLAC to for iTunes to see it?Best audio quality?

2018-02-08 15:03

Reply
If you wish to transfer music in WMA format from Windows Media Player to iTunes, you have to convert them to AAC format beforehand, because WMA format is not supported by iTunes. Now you can find all the music from Windows Media Player in iTunes. Just enjoy them! Converting WMA Files. In iTunes for Windows, you can convert your unprotected WMA files to AAC files (or whatever file format is chosen in the Importing pane of iTunes Preferences) without changing the original WMA file. Simply drag the WMA files into your library in iTunes and iTunes does the grunt work, converting them for you. WMA files on your system can be converted to an MP3 audio format in decent quality using the iTunes app installed on your Windows or Mac system. ITunes facilitates converting only the non-DRM WMA files, and the protected ones from Rhapsody, Zune, Nokia, and others cannot be processed. However so long as you use a DRM elimination software like Apple Music Converter, it'll make it straightforward to convert M4A to MP3 or convert protected M4P to MP3. As for M4P, I know that many people don't know tips on how to convert M4P to MP3 as they're DRM-protected. I do suppose it is a greater thought to convert the M4A file to MP3. WMA is a audio format used by Windows Media Player. Convert WMA to AAC in iTunes with help from an audio engineer, musician, video editor and Mac savvy tech in this free video clip.
How do you unprotect purchased audio files for iPod, iPhone, mobile phone
Many audio & video geeks keep askin' the same question: 'I downloaded a bunch of WMA files under Napster (Nokia Ovi, BearShare etc.) subscription and cannot put them on my audio player, because they're DRM protected. How can I remove WMA DRM protection?' Has this problem frustrated you too? If so, there's an easy way to remove protection from WMA converting your downloads into unprotected MP3, WMA, AAC and WAV format. As you know, the original files can't be copied and played on any device because of copy protection. Contrariwise, the converted files will be transferred to any digital player e.g. iPod, iPhone, Zune, Creative Zen, Sansa, iriver etc.
Curious how to convert WMA files? Convert-WMA-to-MP3 is an easy-to-use audio & conversion tool that helps to unprotect WMA files with no quality loss. The key feature of the program is conversion speed for protected audio files. For conversion the software supports both protected and non-protected audio files from any source and audio books either. The only requirement is that your DRM licenses are valid and files can be played on your computer. If you need the working converter for Windows 7 64bit, then Convert-WMA-to-MP3 software is the way out either.
WMA conversion step-by-step
Let's follow the tutorial steps below on how to unprotect WMA files and convert protected WMA songs.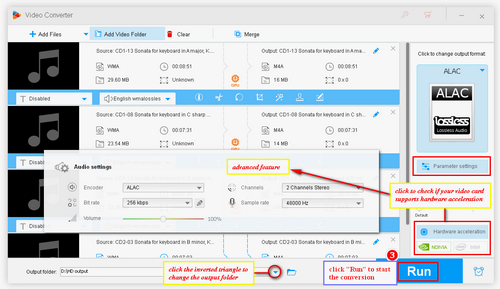 Download and install the software trial version
Select the desired output format (it can beMP3, AAC, WAV and unprotected WMA) and compression quality
Choose the output folder (that's where your converted files will be stored)
Drag and drop single files, music folder or your entire music library to Convert-WMA-to-MP3 software window
The conversion will start automatically. Check the output folder for for the converted files.
Convert WMA to MP3 Features
Before and after WMA conversion you can pre-listen the WMA file. The application has the build-in player embedded. Sure, all ID3 tags and album art are supported. After conversion the music files are unprotected and no longer DRM-restricted. You can copy them to iPod, iPhone, iPad, iriver, Creative Zen, any other digital player and cell phone. Burn your music to audio or MP3 CD for car audio, insert into your wedding movie or edit with audio software.
Protected video conversion
Convert Wma To Audio Cd
Apart from audio conversion tasks, the Ultimate software edition supports protected video conversion either. For example you can convert purchased movies, TV Shows, video clips from iTunes, Amazon Unbox, CinemaNow etc. One more bonus feature is YouTube video ripper plug-in. Open any YouTube clip in Internet Explorer window and click 'Rip' button. The video will be downloaded as FLV and converted to the selected audio/video format.
Wma To Itunes Converter Free
Easy interface, 2-click conversion
Unprotect WMA on high converting speed in batch mode (up to 16 files in parallel)
iPod, iPhone & iPad synchronization
supports ID3 tags for artist, album name, genre, album art
DRM-protected video conversion & YouTube ripper
Windows Vista & Windows 7 support (x32, x64)
Free software upgrades
30 days money back guarantee